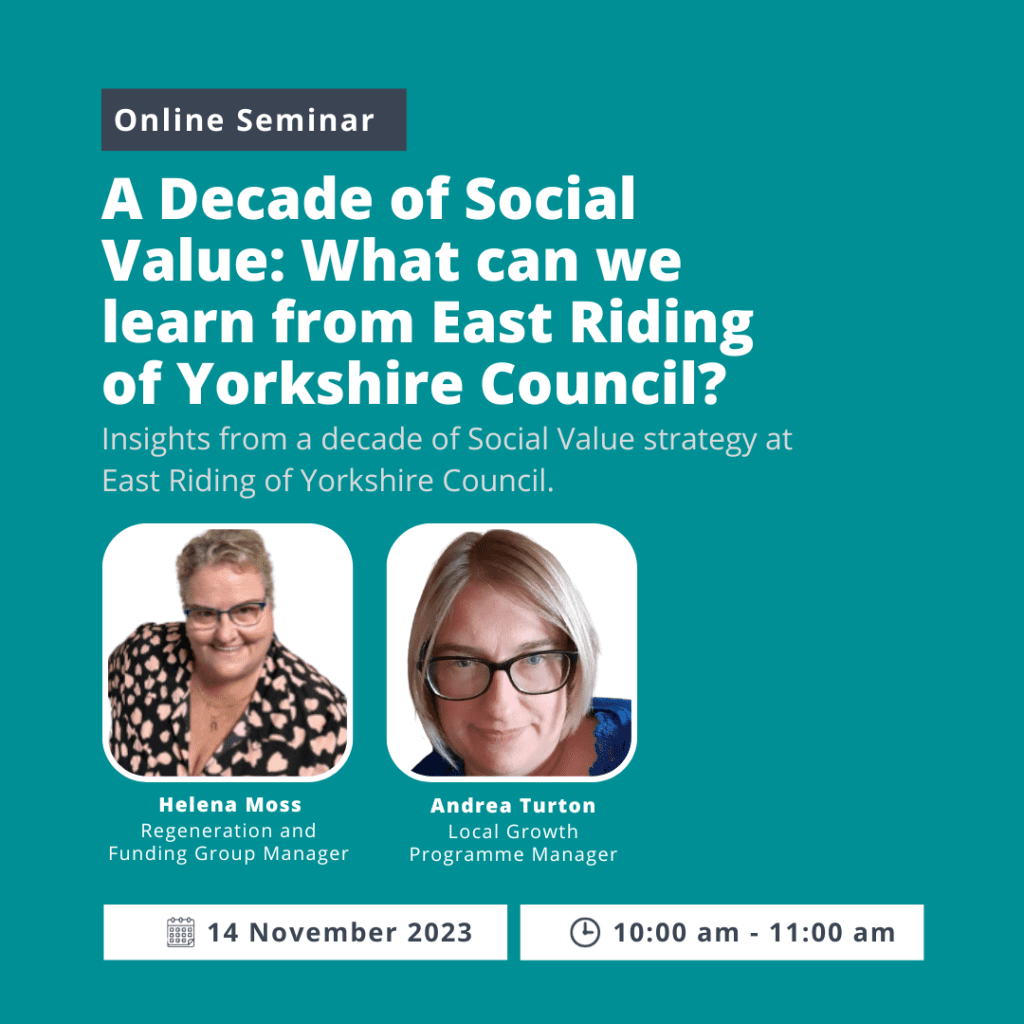 East Riding of Yorkshire Council (ERYC) is set to conduct an informative webinar on November 14th, entitled "A Decade of Social Value: What Can We Learn from East Riding of Yorkshire?" This session is dedicated to examining the comprehensive journey of ERYC's social value initiatives, providing a detailed retrospective of its strategic advancements over the past decade.
Early Adoption and Strategic Foresight:
Demonstrating strategic foresight, ERYC integrated social value practices into its operational framework well ahead of legislative mandates. The council's forward-thinking methodologies have culminated in the development of a proprietary mechanism for gauging social value, now instrumental for numerous organizations in assessing social impact.
Expert Narratives and Strategic Insights:
Helena Moss, a central figure in orchestrating ERYC's social value endeavours, will elucidate the council's pioneering strategies, underscoring the empirical and strategic dimensions that informed their initiatives.
Complementing her presentation, Andrea Turton will delineate the significance of collaborative engagements across various sectors, affirming the council's commitment to holistic community development.
Webinar Objectives:
Participants will gain:
An understanding of the precursors and catalysts for ERYC's early emphasis on social value.
Insight into the creation and utility of ERYC's social value measurement instrument.
Perspectives on enhancing community welfare and operational efficacy through cross-sector partnerships.
Guidance on incorporating social value principles within organizational or communal frameworks.
Intended Audience:
This webinar is indispensable for professionals, community strategists, public sector affiliates, and individuals dedicated to social value proliferation. It offers a unique opportunity to assimilate practical strategies, engage with sector-specific challenges, and understand the transformative potential of social value initiatives.
Participation Details:
We encourage prompt registration as spaces are limited. To be part of this enlightening session, please register via the provided Eventbrite link. Join esteemed peers in distilling a decade of innovation and foresight with ERYC, and explore actionable strategies to augment social value in your respective spheres.